How to Use Nail Polish Remover Without Making a Mess
4 min read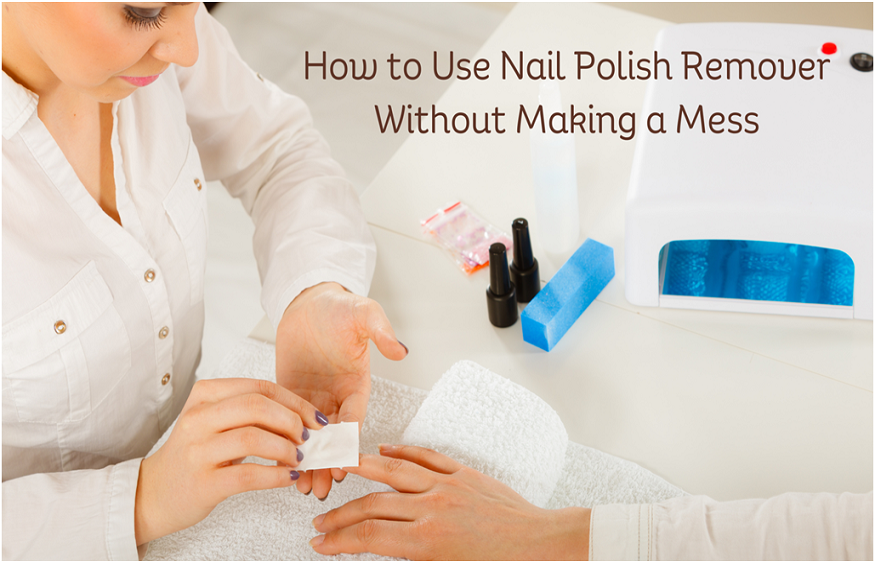 Removing nail polishes is always a huge pain. Ladies, we're mostly talking about the shimmery shades and leftovers from shimmery nail polishes that refuse to budge, even after soaking your nails in super-strong acetone. Add delicate, brittle nails to the mix, and you're more likely to have an on-the-spot manicure emergency.
The good news is that it's not that hard. Add shine and lustre to your nails with a new-age nail polish remover infused with vitamin-enriched oils and natural ingredients. They come in ultra-light, portable, refreshing packaging and formulas that make colour removal a breeze. So what is the correct way to use nail paint remover? The following five steps will show you how to use nail polish remover more effectively.
Step 1: Get Ready with Your Tools
We recommend that you collect all the tools first before you start. This saves you from having to jump around and look for something.
Things necessary:
Nail 

polish remover

Cotton balls or strips

Plastic food packaging

Old towel

Cuticle oil

Hand cream
Find a comfortable place to work with all the tools at your fingertips. Most of us tend to sit on the couch, but a table is fine too. Watching TV while doing your nails is strangely soothing. But before you settle in, you need to prepare your workspace.
Step 2: Prepare Your Work Area
Before you start cleaning your nails, you need to prepare your workspace.
Place the wrap on your work area and an old towel on top of it. This also works well when using a table or sitting on a bed or sofa. This step is not required but recommended. Most nail polish removers contain a potent chemical called acetone. Acetone nail polish remover can stain almost anything, including wood and fabric. 
Step 3: Get Ready with the Cotton
Tear small strips from cotton balls or nail polish remover wipes. You need 10 (enough for all nails) and large enough to cover the entire nail. Pour the nail polish remover liquid onto the bottle cap and soak a cotton swab. Make sure the cotton is not wet and drabbing. Try paper towels if you want to know how to remove nail polish without cotton balls. It's sturdy enough and works just as well.
Step 4: Getting Rid of the Nail Paint
Now let's move on to removing nail polish. First, place a cotton pad soaked in remover on each nail.
Avoid the skin around your nails if you use a remover with acetone. Acetone will soak up moisture from most things. As a result, it dries out your skin. Hold the cotton firmly so that it does not shift. Let it sit for about 1 minute. When done, slide the cotton from your nail.
Please note that you cannot remove gel polish from nails unless the remover contains acetone. Also, you should soak it for about 10 minutes or more. You can easily remove the residue of lacquer nail paints. Nothing more than a cotton ball and remover is needed.
Step 5: Nail & Hand Care
Now that your nails are clean, You need to pamper them a little. First, soak your hands in warm, soapy water to remove any remaining nail polish remover. This is especially important if your remover contains acetone. Soak for about 5 minutes, then dry your hands.
You can now moisturise with your favourite hand lotion or cream. Also, remember to take care of your cuticles and nails. Use cuticle oil on your nails, paying particular attention to the cuticle and nail bed. This will help restore moisture.
From nail polish remover pads to dip-and-twist versions, scroll down to find your favourites in the store.
Best Nail Polish Remover
Colorbar USA Ultimate Nail Color Remover
Attention Lazy Girl! No more fiddling with cotton swabs. Enter this acetone-free dip-in nail polish remover that does exactly what it says on the tin. Dip your finger while watching Netflix, and the nail polish of the month will disappear in seconds. Oh, and it's enriched with almond oil and vitamin E to nourish the purpose and prevent over-drying.
Plum Color Affair Nail Polish Remover
Many removers out there leave an ugly polish stain. But not this! Plum's highly efficient product removes nail paint with just one swipe, leaving nails looking whiter and healthier. It also gently removes dead tissue, softens and softens cuticles, and allows for strong, healthy nail growth. 
FACES Canada Nail Polish Remover
This nail remover from FACES Canada is acetone-free. It has a delicate scent, but you should not underestimate its effectiveness. The eco-friendly liquid from natural ingredients easily removes even the most stubborn nail polish, leaving a healthy, moisturised cuticle and nail bed. 
Insight Cosmetics Remover Wipes
Ever tried removing nail polish in an Uber? That's where this nifty product, aka nail paint remover wipes, comes in. Made with polyviscose fibres and natural vitamin E, these wipes can remove all traces of nail polish and more. What we like about this product is that one pad is enough for at least five fingers. Are you looking to restock your nail tools and nail paint remover? Then, you can visit Health & Glow and get your manicure routine sorted!