How to wear green: the most beautiful color combinations!
4 min read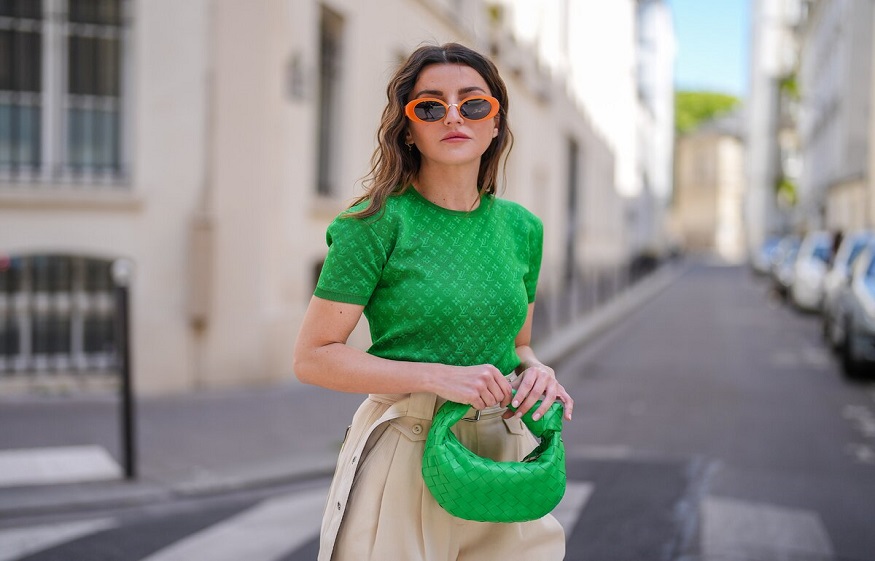 How else to wear green?
You have certainly already worn this color, in a rather usual way for you.
If you're looking to get out of your comfort zone to experiment with other color combinations, you've come to the right place!
I'm going to show you the best ways to wear green!
What colors go with green?
This is a question that many women ask themselves… with all the other colors too!
It is believed that some colors do not go with others.
For my part, I think that all colors can marry together.
Simply, some harmonies will be softer, others more original. Some will be common in a given society, others will be rarer.
Just because you don't see a lot of people wearing mixes of this or that color doesn't mean they don't go together.
It's just that we're not used to it.
To the question "what color goes with green in clothing", the answer is endless. There is an unsuspected universe of possibilities.
Let's not forget that we perceive up to 300,000 colours!
I will therefore retain here, the colors that work easily with green. The ones you absolutely have to try to really make the most of your dressing room's potential!
How to wear green with neutral colors but in a less common way?
Of course, you can't say that black and green don't go together.
However, when the green is deep enough to really dark, it doesn't stand out too much on black.
It comes out quite badly and seems a bit uninteresting… You can see below that the dark green blazer doesn't really add value over the black top. It's a bit bland whereas the jacket could have had a better effect worn otherwise…
When you wear a beautiful color, you might as well allow it to occupy its full place. It's still a shame to erase it and make it more bland than it is.
It is therefore more interesting to create relief:
So, if you really want to wear black pants with it, put on a white t-shirt or in any case, a slightly lighter top so that the color of the jacket takes all its place.
You can also wear a black top with green bottoms or vice versa.
We note the superb combination consisting of mixing the black blazer with a gray top and green pants. It's a great way to create even more relief, and therefore style, while staying on a neutral base if it makes you more comfortable.
look idea with green pants
Then, green will always work with browns, beiges, and all colors close to the hues of nature.
They are part of the same family and obviously marry. These are therefore fairly classic color combinations. They are beautiful, always successful but do not create the unexpected. We marry them together without surprise.
And all the more so when the green is very dark like here. But for lovers of soft and natural colors, it is ideal and very easy to achieve.
I especially love it when green is worn with camel pants and braided straw or raffia accessories.
How to wear green with neutral? I vote for white! It's a little less common and the contrast is punchy while remaining fairly understated.
It's fresh, bright and easy to combine. I find it really beautiful with a white turtleneck and white boots or ankle boots. The result is also stunning with small white sneakers for a more casual but a little more original look.
How to wear green in a much more daring way?
How to wear green with orange reds and oranges:
You will very often see green associated with red. This is because red is the complementary color of green. That is to say that it is at the exact opposite of the chromatic circle.
They somehow compensate each other, mutually bring their respective benefits to create a perfect balance. Culturally in Europe, we are used to seeing this green/red combination, if only at Christmas!
Also on Scottish patterns, tiles are often depicted with red lines on a green background.
Consequently, it is an association that is ultimately quite banal or in any case, rather familiar to our eye.
So I invite you to go a little further to experiment with orange-reds, all the way to orange!
Ouch it stings the eyes? At first, you may fear this type of look, thinking it's too flashy.
But my god what pep's!